Writing a management resume is very different from a resume for a job seeker at the support level.
Resume writers know the importance of writing an optimal resume. This is why professional resume writing services charge $800 to $1,400 for management and executive resumes. That's well worth the investment when you factor that a great r-e-s-u-m-e can get you more c-h-e-d-d-a-r. 😉
The writing fee is temporary. The bump in salary can be permanent.
How to write the best management resume doesn't just start with using the right action verbs and key skills. The content, from the career summary to the accomplishments, is written in such a way that you show potential new employers just how effective you are.
But, managers like you are bombarded with bad career advice from those who don't have the professional expertise, depth of experience, or the "chops" to give it.
I once read advice from a so-called "professional resume writer" that claimed that resumes should only use objectives and be one page.
You should know that's garbage advice.
I also heard once that managers should use achievement-based resumes only and avoid listing skills.
That's bad advice too.
You may have also heard advice about resume design; e.g., it's okay to use graphics, text boxes, and clever fonts.
Um, this "advice" isn't advisable either, unless you're careful to comply with ATS guidelines.
The onset of applicant tracking software has changed how resumes are written and visually presented. However, there are some clever ways around ATS restrictions — and skilled management resume writers have a few tricks up their sleeves.
Despite the flood of free online career advice, many people remain confused about how to write and modernize their best management resumes.
For managers, there are many resume writing tips to help get you over the writing hurdle. Your resume should include:
Your Professional/Personal Brand
The Right Words Phrases (Keywords)
Quantifiable Achievements
Your "Career Story"
Writing strategies used for each job seeker are personalized to the individual.
Here's my resume writing help to improve your resume by using BETTER CONTENT and BETTER VISUAL APPEAL before applying for that next job.
Let's get started:
5 Easy Ways on How to Write & Present Your Management Career
1. Avoid these words and cliches that aren't doing you any favors.
Don't know what these words are? Indeed published a list of words to avoid when writing resumes.
These words are overused in resumes, i.e., "outside-the-box thinker" and "self-starter," which is why career professionals steer their clients away from them.
Here are a few others to avoid:
Passionate
Detail-oriented
Team player
Motivated
Maybe you have the above characteristics.
However, you have to review your career and skill level through the eyes of hiring staff. Hiring managers want you to prove you have these characteristics, instead of you simply saying you have them.
There is a workaround, however.
What are the best tips for relaying to employers that you are a passionate, detail-oriented, and motivated team player?
Take these examples into consideration:
(Example of Passion) Piloted and sought funding for a new emergency response program that assisted more than 1,000 displaced workers caught in Hurricane Sandy. Secured $261,000 in corporate donations to complement the company's $750,000 contribution that supplied temporary housing, clothing, and food to employees.
(Example of Detail-Oriented Behavior) Identified a $51,000 accounting discrepancy that nearly cost the company thousands in IRS tax fines/late fees. Implemented additional auditing systems and cross-training to staff to safeguard against future accounting errors.
(Example of Team Success) Implemented advanced Scrum framework to the development team, which improved software deliverability and improved overall performance.
Remember, it's not about telling employers you're hardworking, strategic, and so on.
It's about giving HR managers the "proof" that you are these things.
Makes sense, right?
2. Understand ATS and AI hiring.
When applying for a job, do you know what happens when it gets uploaded to a company website, LinkedIn, Indeed, Monster, or wherever?
For better or worse, when you apply for a job online, all too often your document is first "seen" (screened) by computers.
In the past few years, we've heard a lot about applicant tracking systems (ATS).
Haven't you heard about ATS?
Well, if Google and Salesforce merged forces, this applicant software would be the result.
Let's first look at how "Google qualities" come into play:
Let's pretend for a moment that you and I need to hire a Marketing Manager. When you conduct a search, you might simply input "marketing manager. When I conduct a search, I might input this instead: "multimedia digital manager."
If you haven't noticed, KEYWORDS are highly relevant when writing your resume.
The Salesforce-like features enable hiring managers to communicate and manage resumes/job applications. Managers can use applicant software, such as iCIMS and BambooHR, to manage prescreening, hiring, training, and performance review functions.
Every resume you write should be written for two audiences.
It should be written for…
Computer "eyes"
Human eyes
Use the right keywords.
And, be ATS friendly.
But, let's take ATS one step further.
Artificial Intelligence (AI) Recruitment is essentially hiring 2.0.
Some of the best features that the next-gen ATS offers is the ability to better:
Screen resumes and shortlists better candidates
Sources candidates and centralizes data
But, AI recruitment software doesn't stop there.
AI recruitment looks at other sources as well and essentially "grades" job candidates from a collection of data.
We're seeing this in action with LinkedIn's competitive intelligence data that's being offered to Premium members.
Yet, AI software takes this competitive data one step further.
For example, it analyzes candidate:
Employer data
Skills that are in the public forum (e.g. LinkedIn, portfolio sites)
Online mentions in search (e.g. press releases, media mentions)
3. Don't use outdated and old-fashioned resume layouts.
If you are afraid of trying something new, how will you ever stand out from other job seekers?
There are 3 primary management resume layouts:
Chronological
Combination
Functional
Forget about the functional.
Stats over the years have shown that most job seekers use a chronological or combination resume format.
So, which of the two should you use?
Chances are a chronological layout is the right one for you.
But, there's the boring chronological resume layout and then there's the "spiced up" chronological layout.
See the below before and after example.
Both of these management resumes are chronological.
But, the "after" version has a lot more body and visual appeal. It also contains relevant keywords, accomplishments, and so on.
Why use a spiced up "after" version?
A revised layout like this one gives readers a pattern interrupt.
After viewing a boring layout, giving readers something new to look at attracts a more attentive mind.
This version also gives individuals the ability to better skim relevant content.
Think about it.
Do you consume more content when it's presented in paragraph form or broken down by category?
4. Jazz it up.
Management and executive resumes are now in color.
Sure, certain career fields will always prefer black Times New Roman (boring?) font. Thankfully, there are industries that are open-minded and appreciate creativity.
The one caveat is ATS, which means you are limited in how much design you use. I recommend checking out this post on how to write an ATS-friendly resume.
Not all hiring companies use cloud-based ATS tools, which gives you the freedom on occasion to add visual elements with limited negative repercussions.
A splash of color, a tasteful, well-placed chart or graphic, and a different, yet acceptable font can do wonders.
You can view a few additional resume examples that show are creative flair.
5. Create a big impact by including snippets of important information.
When writing your resume, cover letter, and LinkedIn profile, put your "best career bits" upfront to get the best competitive edge.
For example, are you:
Award-Winning?
High Achieving?
Uniquely Skilled?
Optimally Credentialed?
Have high success rates?
Within the top section of all your job-search documents, ALWAYS tell resume reviewers about what skills, experience, and successes are ideal and unique to you.
[Related Article: ExecuNet Review – To Help You Answer, Should You Join?"]
Check out these two sample summaries for those in management roles: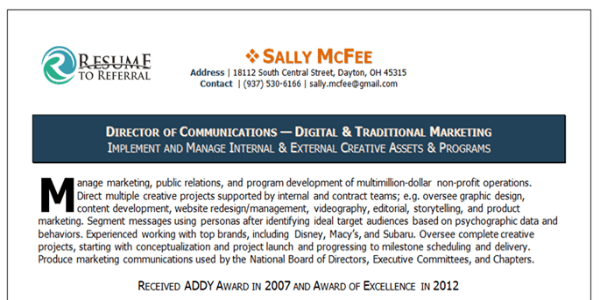 Notice how certain achievements are bolded or listed in a way that attention is drawn to them.
But, don't stop there.
Take this example into consideration as well:
This management resume has "Turnaround Expert; Brought Operation to #1 in Market Share" listed in an unlikely place.
I do want to caution you on this, however. Putting this bit of content into a category header isn't ATS-compliant.
Yet, it's a neat tactic none the less.
Leveraging unique, advanced resume techniques like these will go a long way to helping your management career and resume stand out.
This article is also available in Spanish.
________________________________________________________________________
Do you need resume writing services to catapult your job-search skills? There's nothing more frustrating than when you're aggressively job searching and getting nil for results. I can help. Click here to submit your resume and schedule a 15-minute call with me.