Do you need some best resume writing tips to make the writing phase a bit easier?
Resume writing can be a pain in the crackers, especially when there's too much focus is placed on career details that don't add value to a professional resume.
The best way to cut the task of writing is to focus your attention on less, not more, when writing your resume.
For example, a great place to make any content writing project an easier chore is by first answering:
Does your resume include every detailed aspect of your career and educational history? Does it need to?
In an attempt to be thorough, you probably included as much information as possible. You may have even added all those professional references and a listing of your volunteer and personal achievements.
It can be easy to think that squeezing everything into a few pages is how to write your resume.
After all, more information is better, right? Not so much.
Here's the brutal truth. There's nothing more annoying to a hiring manager than trying to read through a resume that's more than a couple pages long, written in tiny font, or including extraneous information. While it's noble of you to want to be as detailed as possible, a resume is not the place to do this.
In the marketing world, there's a saying that, 'Less is More'.
What this means is that you can make a greater impact and get the attention of the right companies by simplifying your resume with a brand that's all your own. Think about the companies you do business with. Big brands like Apple, Nike, Wal-Mart, and Pepsi have all successfully earned top market share because they've created a simple, yet powerful brand.
A resume is essentially a marketing document. It's akin to a sales brochure that introduces you to companies.
While you are not selling a product or a service, you are selling something much more valuable – YOU. Therefore, this may be your only chance to present your worth to employers with a well-designed resume. It's time to cut the fat and include only relevant information in your resume so you get you the best results.
Not convinced yet?
Here are some other reasons to reduce your resume to a more manageable document:
More recruiters review and critique resumes online through mobile apps, which means "on the small screen"
Recruiters are spending much more time scanning user data on social media networks
The number of applicants per job advertisement has exploded, meaning less time to look at each resume
Sending resumes by email means some files can get lost or corrupted in transfer
Applicant tracking systems weed out resumes that are too complex or poorly organized
ANOTHER RESOURCE: Check out this article if you think you're a resume hoarder and looking for ways to dejunk your resume.
How much time do recruiters ACTUALLY spend reviewing your resume?
According to research conducted by TheLadders, the behaviors of recruiters were studied over a 10-week period to find some surprising results of how resumes are viewed.
Interestingly enough, the recruiters reported that they spent around 4 to 5 minutes reading each resume, but upon closer review, it was more like 6 SECONDS on average.
Recruiters spent the majority of their time reading the top half of the first page, and some never even looked at the rest of the document.
When resumes were written in a format that included plenty of organized sections with call-out headings, recruiters were more apt to read to the bottom of the first page.
6 Important Components Every Good Resume Should Have
The most important part of TheLadders study had to do with the actual content found on resumes, where recruiters spend 80% of their time. Using gaze-tracking technology, which could tell where recruiters' eyes had been, the information that was reviewed, in this order, was:
Candidate name
Current company/title
Previous company/title
Previous position start and end dates
Current position start and end dates
Education
Additionally, when recruiters viewed digital resumes found on LinkedIn, they were more apt to be distracted by things like advertisements, photos, and other information. A simple, resume focused platform was much easier on the eyes of recruiters and helped increase review times.
What can we learn about writing resumes from studies like this?
In the most direct sense, when designing and writing any resume, you must think of this as creating a marketing document that will effectively sell you to the hiring manager. Keep it simple, organized, and include the pertinent information that the person reading it needs.
There will be plenty of time to elaborate once you get in front of the right hiring company.
Remember, the goal of a well-written resume is to get you the interview.
6 Ways to "Cut The Fat" From Your Resume

Paring down your resume starts with making some concerted changes to this document.
There are times when dumbing down your resume is a good idea.
Stay with me.
I know just the thought "dumbing down" anything sounds counterintuitive.
Let's go over a few things you can work on with your professional resume writer to turn your current resume into a document that works for you.
#1 – Reduce long paragraphs and sections down to 3-4 lines or less. Take out the extra words like adjectives and focus on creating clarity when describing your job history.
For example, a sentence like this …
"Conduct train-the-trainer programs as well, coaching departmental trainers to provide staff with on-going support and guidance that fills the pipeline while decreasing the time spent on closing the sale."
… could be widdled down to this:
"Deliver train-the-trainer curricula that enabled staff to fill the sales pipeline faster while decreasing the time spent on closing the sale."
Once consolidated, an even better example of this sentence contains achievements too. Such as:
"Deliver train-the-trainer curricula that enabled staff to fill the sales pipeline 23.9% faster while decreasing time spent on closing the sale – went from an average 9 weeks to 7 weeks for most closings."
When looking for more ways to reduce content within your resume, be aware of content that doesn't say much.
For example:
"Acts as a change agent and overall strategist. A professional who evaluates and responds to various changes to technological environments. Proactive leader who takes a company's resources and maximizes it to deliver better performance." 
The challenge with the above example is that there's more vague detail than there are specifics, and therefore, raises more questions.
What great changes make this person a change agent?
Evaluate and respond? Those are weak describers.
What technological environments? SaaS? Cloud technologies? Product development? Mobile applications?
What performance increases are being referenced?
See what I mean? Once you start peeling back the layers, the above sentence avoids answering those critical questions that HR managers and recruiters desperately want answers to.
#2 – Stick with the 'rule of 3' for bulleted lists that you use to describe job achievements. Of course, you can always include more achievements when necessary, but ideally, have a minimum of 3 as a good base.
#3 – Cut down on unnecessary words, like 'email', 'phone', and 'address'. View this before/after example:
BEFORE
John M. Doe
123 Miller Avenue, Springdale, IL 45523
Email: [email protected] | Cell: 817-235-1351
AFTER
John M. Doe
123 Miller Avenue, Springdale, IL 45523
[email protected] | 817-235-1351
#4 – Include the list of 6 resume elements that the study above indicated were important, but make sure they are on the first page and in the top half if at all possible.
#5 – Leave out outdated sections, such as Objective, Personal Affiliations, and the phrase 'References available'. No one uses those anymore.
#6 – Forget about adding your photo or any distracting formatting to the resume. Instead, use a professional resume format with strong section headings that match ATS categories.
By following the above tips, you can be on your way to developing a much better resume that gets to the point, and honors the less is more principle. If you need assistance taking your resume from too much to too amazing, be sure to get in touch with Teena Rose by requesting a quote today.
What You Should Know About Keywords
The success of your resume is determined in part by the keywords it includes.
Fail to include relevant keywords and key phrases to your job target, and you're missing out on prime job interviews.
In fact, if you know much about applicant tracking systems (ATS), you know that your resume needs achievements, a summary, and yes, keywords.
So, do yourself a BIG favor and weave relevant keywords into the content of your resume, cover letter, LinkedIn page, and so on.
Here are a few sample keywords by profession:
ACCOUNTING
Accounts Receivable
Accounting Software (Lotus 1-2-3, QuickBooks Pro)
Accounts Payable
Benefits Administration
Collections
Departmental Budgeting
Financial Reports
Account Management
Profit & Loss
SALES
Client Base
Client Relationship Building
Event Marketing
Lead Groups
Marketing Strategies
Material Forecasting
Networking
One-call Sales
Outside/Inside Sales
Promotional Tactics
Selling Strategies
HUMAN RESOURCES
Affirmative Action/EEO Regulations
Employee Orientation
Employee Relations & Mediation
HR Program Development
Labor Relations
Performance Development
Personnel Training
Pre-employment Screening
Recruitment Programs
Staffing/Scheduling Requirements
State & Federal Rules and Regulations
Training/Orientation
MANAGEMENT
Business Alliance Building
Business Development
Contract Negotiations
Departmental Operating Budget
Employee Relations
Leadership Development
Logistic Operations
Operational Development
Performance Evaluations
Departmental Policy & Procedures
Here's How To Know The Proper Length For Your Resume
Questioning resume page length is an age-old question that really should be put to bed, and let me tell you why…
Have you heard this advice: "Your resume shouldn't be more than 1 page in length."
Really, do you believe this?
Make the one-page "argument" to some college grads, and you'll likely get plenty of nodding heads in agreement that a brief resume is best.
Make that same argument to someone with 10+ years of work experience (think established professionals, such as managers and executives), and well, you'll likely hear grumbling with lots of disagreement.
How does a person with 10 years of tenure effectively squeeze that amount of work history — and all the necessary detail pertaining to such — into one page?
What is the big obsession with resume page length anyway? Maybe it's time to concern yourself more about…
Ensuring your resume has edge and is written thoroughly
Utilizing a professional resume layout that adequately "sells you" to prospective new employers
Writing quality content, while ensuring the content looks full, not sparse
Covering and highlighting your most notable, and relevant knowledge, skills, and abilities (KSAs)
Why may the question about page length no longer need an answer?
Why is resume page length less of a concern these days?
Think of the places we now put resumes for one. You see resumes on Craigslist, LinkedIn, VisualCV, and Upwork — and these sites are just the tip of the iceberg.
How many pages is your LinkedIn page?
How many pages is your VisualCV?
These are likely idiotic questions because the Internet has changed how we view content. Now, we focus more on "what's above the fold," keyword quality, and skim-ability when it comes to online content.
Since an increasing number of resumes are made into soft-copy documents, simply meaning viewed on a computer screen, the age-old question about page length may be becoming less and less relevant.
No doubt, your resume needs to be shaped and customized to fit each job-search "vehicle."
If a one-page resume is all that's needed for Craigslist, for example, then yes, a one-page resume satisfies the objective.
For other job-search vehicles, let's say for submission to USAJobs.gov, a one-page resume transitioned to the site's resume management system probably won't suffice. USAJOBS, like many other online resume management systems, use keywords to identify prime candidates.
So, using a tight, one-page resume might be short-changing your resume in the keyword department and therefore positioning your resume to produce far fewer interviews.
Leave Education OFF Your Resume? Here Are 3 Scenarios

When You Should

.
Leaving education off your resume might sound like a dumb idea at first.
Sounds crazy, right?
Yet, there are rare instances when leaving education off your resume is the best technique for securing more viable job opportunities.
Ideally, education is intended to benefit your overall job search and career goals. Yet, there are certain instances when education can be a hindrance.
For example, maybe you have too much, too little, or it's the wrong kind. =]
Here are 3 scenarios when you might exclude education from your resume:
Scenario #1: Do you have too much education for the career you're targeting?
Let's say you have dual master's degrees.
To you, the added education is an asset. Why wouldn't it be?
Yet, you find that the positions you're applying for require only a bachelor's degree.
This is when things get sticky for some jobseekers. 
This is one of those scenarios when too much education is too much.
Dual master's degrees can make you appear over-qualified.
Dual master's degrees can also give the impression that you'll want more salary.
A huge red flag for hiring companies pinched by a tight budget.
Scenario #2: Is your education the "wrong kind" for your newly targeted job role?
Leaving certain education or an industry certificate off a resume is also needed when you're eyeing a new industry/job, yet your college major is focused on your old career. In this case, you can't afford to be pigeonholed.
An individual with VERY specific education will understand this most.
For example, I have a colleague who holds a college major in music. Of course, this degree is perfect when targeting something in and around the music industry. But, when he stepped outside that industry and went into providing technical solutions for businesses, that music degree becomes irrelevant.
This type of industry-focused certificate becomes irrelevant to a multitude of other industries, so job seekers would be wise to examine and possibly exclude such academic items from their resume.
Scenario #3: Is your education too much? Does the education section of your resume look more like the kitchen sink?
If you're a jobseeker who has found himself taking a whole "kitchen sink" worth of training and certifications over the years, you'll find yourself in this pickle.
Employers like well-rounded, well-trained professionals.
No argument there.
But, there comes a time when continued education can come across too scattered and not focused.
Certainly, there are times when job seekers have too much education and therefore need to "shave" some off.
This technique is called dumbing down a resume to get a job.
Ideally, a job seeker should pursue positions worthy or in line with their education, but when that's not possible, consider whether excluding unnecessary education from your resume will increase your job search ROI.
What if you're on the other end of the spectrum? 
How To Handle LACK of Education When Writing Your Resume
Sure, there are strategies for writing an effective resume when you lack education.
For example, going with a combination resume format that highlights the broadness and depth of your knowledge and skill set relevant to the position and company. Basically, a combination resume allows you to somewhat "hide" certain career blemishes, such as lack of education.
If you're lucky, hiring companies will back-burner educational requirements in place of equivalent work experience.
If you're unlucky or want to do more than cross your fingers and hope for the best, now the best time to address that lack of education.
Think of it this way. If you're being overlooked for prime jobs due to a lack of education, expect additional side effects too, like lower starting salaries and fewer promotions. So, do something about it. Look into company-sponsored education, less expensive community colleges [if you're paying out-of-pocket], and pursue grants, work-study programs, and low-interest student loans.
Advanced and continued education are a necessity these days, so when you lack education, taking steps to improve your professional development is ideal. No doubt, holes in your education can cost you strategic career moves (if not already) … and likely hurt your salary (if not already).
Here's a viable option that you may not have considered as well:
For individuals needing to improve their education, open courseware is an option.
What you might not know is that a few nationwide colleges are offering FREE online courses classes to students. Here's a list of colleges offering courseware that's worth checking out. Disclaimer: open courseware tends to lean to technical areas; e.g. IT, math, and science.
4 Quick Tips for Writing a Best Resume
You have your resume on screen and you're looking at it, but you're now wondering how to make the resume better, so you get the most "mileage" out of your job-search efforts.
1. General resumes are out. 
Immediately drop the idea that one resume is all you need.
If you're targeting an array of job titles, such as VP of Sales, Outside Sales, Sales Trainer, then a general resume is out of the question.
You need to write a resume summary that caters to each job focus, especially when there are different skills involved with each.
For example, a VP of Sales is a management role. An Outside Sales position, on the other hand, IS NOT management focused.
A general resume wouldn't be ideal for any of these scenarios because it FORCES the HR Manager to figure you out.
Bad move, old chap! 
HR Managers don't love reading and interpreting resumes as much as you might think. 😉
2. Resume summary vs. resume objective?
Resume objectives are out.
Resume summaries are in.
This is because resume objectives are more self-focused, while summaries are written in such a way to focus on the employer.
The details included in your resume summary should match the job tasks the hiring company needs/wants from you.
Here are two example resume summaries: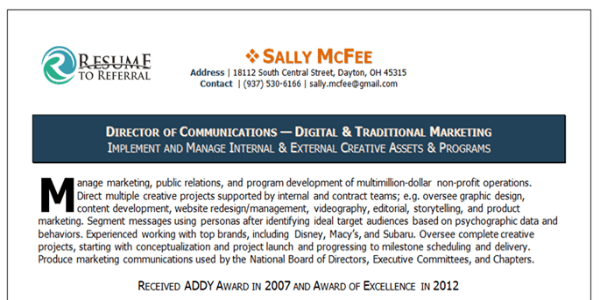 3. Stress actions and results more than skills 
While using a job description is a good jumping off point, go deeper.
What you should do is add accomplishments, special recognitions, or promotions you received while in that job, and some problems or challenges you and/or the organization faced and how you overcame them.
Go through your current resume and at the end of each bullet point ask, "with what result?"
If you can answer that question with a quantitative answer, POW!
Now you're onto something.
4. Put a leash on your writing. 
Simply put, don't use 10 words when you can say the same thing with 5.
If you can say, "The cat, that has black fur with a touch of white, is meowing on the fence," you can probably say, "The black and white cat is meowing on the fence."
What To Do When You Have MORE JOBS Than You Know What To Do With.
Jobseekers are changing jobs more now than they did just 10 years ago. Some experts speculate it's about every 2-4 years. An increase in the number of jobs held is making it difficult for hiring managers to interpret a candidate's full skill set because of the distraction between the quantity of positions versus quality of positions.
A sizable list of jobs within any resume is perceived a certain way by those who hire. Keep in mind the average resume is between 1-2 pages.
Space is limited.
Does a lengthy list of jobs make you look like a job hopper, for example?
Maybe someone who can't commit?
Look at job quantity from the other side of the hiring desk. Hiring is expensive; and as companies continuously research, analyze, and implement strategies to improve costs, you bet reducing employee turnover and retaining great employees is a prime focus.
With this said, readers of your resume might be wondering:
Why the continued change in job roles?
Does he quit often?
Was he fired once or twice?
Why didn't former employers successfully keep him?"
Good questions. Questions however that you might not get to answer if the reader is negatively distracted by the quantity of jobs spanning the last few years of your career.
Now more than ever, it's important to make slow and calculated decisions when it comes to job change. No one can afford to make a bad job move, only to find themselves unexpectedly back on the job market too soon.
It's estimated 15M are unemployed, with record numbers of those experiencing long-term joblessness. My advice lately, in fact, has been jobseekers should stay put, avoiding the open job market if humanly possible.
We all want to avoid unnecessary job changes, which in turn, add line items to our resumes, am I right?
Here are some thoughts on doing just that …
1) Remain with employers for a minimum of 2 years, preferably sticking it out even when the job doesn't turn out exactly as you'd hoped. Have you heard the saying, "you've made your bed now lay in it"? Yes, not the smoothest medicine to swallow, I'm sorry, but it's important to remain steady and not be hasty or erratic at the sign of job trouble.
Instead of quitting or jumping ship, and presuming the company isn't about to go belly-up, maybe there's a less invasive alternative?
Maybe you can change positions, but stay with the same employer?
Maybe you can ask for different/additional job responsibilities?
Maybe you're experiencing a rough patch that will pass with time and patience?
Keep in mind too that an impending boss change can benefit your situation … and if your current boss has been with the company for a few years, well, enough said. =] If so, his job change could save you an uncomfortable job-search.
2) Be proactive, rather than reactive. Do the necessary research before accepting any role [proactive] so you don't find yourself abruptly back on the job market [reactive]. Know the whos, whats, wheres, and whens before accepting any new role. Companies ask for 3rd, 4th, and 5th interviews [and more sometimes], so ask to meet with your expected boss to further discuss the position, identify your match for the position, and so on.
Just a sampling of questions to ask and get answered:
What will be consuming my time?
Who will I be working with/reporting to?
What current problems exist within the department?
What does the company expect from me?
What measurement of success will you use to determine my value to the team, department, bottom-line?
Final "Food "for thought:
How would you apply hiring dollars? On a candidate who changes positions every 24-48 months, or one who possesses a committed record of employment?
When a large number of job titles covering a short period of time is perceived negatively, it can adversely affect one's job-search and career.
Dumbing Down Your Resume. Should You?
Dumbing down your resume might have never crossed your mind until you started getting those "you're overqualified" responses from hiring managers.
In fact, you're probably wondering: "Is it ever good to look less qualified than you really are?"
The question of whether you should simplify a resume in order to secure a job became a hot topic during the era of painfully high unemployment that lasted from 2008 to 2014.
Many people who'd been laid off were struggling to find a job – any job – to keep financially afloat. In many cases, that meant modifying or omitting certain work history and education from their resumes in order to avoid appearing too experienced (aka "overqualified") for a position. Dumbing down a resume was mainly a survival strategy.
Though the jobs market has rebounded, some professionals are still finding it hard to get jobs at their level. Part of the problem is age discrimination — that is, the assumption that because someone is older, they are overqualified and too expensive to hire.
A recent study by the National Bureau of Economic Research found that job seekers over aged 64, especially women, were much less likely to get callbacks or emails after applying for jobs than were applicants between ages 29 and 51.
If you are not getting responses to your job applications, it's worth considering that there may be other factors at work, such as:
Hiring professionals didn't like the layout of your resume
Hiring managers weren't presented with a clear understanding of your most relevant skill set
Hiring professionals were simply bogged down with resumes from thousands of others with similar backgrounds
Still, enough people hear: "Sorry, thanks for your time, but you're over-qualified for this position" at the end of an interview to know that it's a real problem for experienced professionals who are searching for jobs that are a step down from the level they've worked at before.
Back to the question: Should you ever consider dumbing down your resume?
Well, it depends.
In a perfect world, you should never have to do this.
Ideally, a company should be thrilled to have a better-than-average qualified employee, and you should never have to hide your accomplishments. But let's be realistic. Sometimes you need a job now — it's a matter of being employed versus being unemployed. And sometimes you know beyond doubt that your advanced degree or over-the-top skill set is the reason for the lack of interviews.
5 Steps for Dumbing Down Your Resume…If You Must
Dumbing down your resume to get your foot in the door is a strategy that just might work.
If you decide to go this way, follow these five steps:
1. Customize
A resume is a marketing piece designed to "sell" you to the prospective hiring company, therefore, avoid a budget resume from a resume writing mill at all costs. When you respond to a job announcement, tailor your resume carefully to the position description. If the company is looking for a person with analytical skills and experience working with teams, highlight those things throughout your resume.
Use as many matching keywords as you can.
This will help your resume get tagged in the application tracking system and also show a hiring manager that you meet their requirements without adding extra information that might draw attention to your being overqualified.
2. Stick to the Last 10 Years
One way to simplify a resume is to limit the range of the experience you list. Include only the last 10 years of your work history with details. Note, however, that many organizations use online applications that require you to list all previous employment with dates, so leaving jobs off your resume completely might raise a red flag. In these cases, consider adding an "Additional Experience" section with a general list of positions you've held.
3. How About Validity?
Dumbing down your resume can be difficult, if not nearly impossible, but don't be tempted to change the truth.
Hot spots for concern on resumes are education and work experience, particularly job titles.
Business owners, for instance, might want to dumb down their resumes because they fear that the "Founder, Owner" title will work against them if they are applying for a support role. But don't lie about your titles or where you worked. For one thing, hiring managers will contact your references, and any inconsistencies will raise their concern.
4. Know What to Omit
Strategically omitting resume information might give you an advantage. For example, leave your highest degree or specialized training off your resume if it is not relevant to the jobs you're interested in (and title that section "Relevant Education").
For example, leaving education off your resume might be a good move, when this education and training is not relevant to the jobs you're interested in (and title that section "Relevant Education").
You can also omit the dates of your degree if you are concerned about revealing your age. Job responsibilities can be toned down, too, especially ones that relate to people and budget management.
5. Keep Your Social Media Profiles Consistent
If you're strategically altering your resume to appear less qualified, make sure your social media profile reflect those changes.
Hiring managers check the LinkedIn, Twitter and Facebook profiles of candidates under consideration, and you want them to see the same story.
Example of a Poor, Better & Best Resume Achievement
Career progression and other factors vary from one individual to another; therefore, how often a resume is updated should be each individual's choice.
Continued changes in job titles or employment tasks are indicators the resume should be updated more often, but in cases where a person's career is a bit more stagnant or slow moving, updating the resume is probably better as a once-in-a-while project.
What resume touch-ups can jobseekers do in 15 minutes or less?
Integrating just a few additional keywords and sprucing up those accomplishments to include more numbers and percentages are changes people can make to their resumes in 15 minutes or less.
Take this before and after examples into consideration:
POOR:

Managed a growing sales team, which focused on client accounts within the healthcare industry.

BETTER:

Managed ~13 sales reps, which focused on client accounts generating $13.1MM within the healthcare industry.

BEST:

Managed, trained, and coached ~13 sales reps, nurturing $13.1MM in yearly revenues generated via major client accounts within the healthcare industry (e.g. John Hopkins Hospital).
Simply pecking at resume content, making even the tiniest improvements, can be a good move.
Think of the resume as a live being — it needs attention [on-going tender loving care] and food [good content]. Ideally, the resume is always in draft form because it's forever being added to and improved upon.
Before & After Resume Example
How Employers REALLY View Volunteer Work
Any break in employment is a challenge to handle from a writing perspective, especially since hiring managers generally don't like employment gaps. Unfortunately, date gaps leave the door open for the imaginations of HR managers to "run wild" … incarceration, for example.
Not every hiatus will come across favorably, so job seekers need to be prepared for the potential backlash of taking a (planned or unplanned) break from the workforce.
Now, I will say that date gaps seem to be less frowned upon at this point, mainly because there are millions of individuals who are unemployed — some with stellar work histories and more than adequate educations, meaning their unemployed status has nothing to do with their performance, but more likely the company's lack of performance.
Rather than jump into a volunteer role just to stay busy or to help members of the community — there is nothing wrong with factoring the effect of volunteer work on your overall career and switching your volunteer choice according to your findings. You can do both: help your community and keep your career a bit more on track.
How to Handle Date Gaps in Your Resume
Addressing any gap in employment really depends upon the length. Shorter timeframes, for example, maybe a few months to a year or so, aren't absolute necessities to explain.
Sometimes jobseekers feel the need to explain, even though it may not be entirely necessary. Hiring managers understand job candidates will have date gaps from time to time, especially when factoring the jobs lost during this recent recession.
A gap that's longer, maybe several years is trickier and definitely worth some initial words of explanation from the jobseeker — oftentimes best within the cover letter.
Do you have advice on how to explain the time off in the resume?
When it comes to covering resume gaps, it's best to be proactive rather than reactive, filling one's time between jobs with additional education and career-relevant volunteer work. Volunteer work doesn't necessarily need to be performed with a non-profit, but can also include professional non-paid work done to help a family business.
Any resume tip you can offer for those who have been unemployed?
For the employment gap that just bugs 'ya, think about changing your resume around — especially if the current layout draws attention to the gap. For example, a combination resume style might be just the answer to making the resume more top heavy, somewhat overshadowing the employment gap. It's not a perfect strategy, but it does help some. Going this direction with your resume can also highlight those on-target and transferable skills most relevant to the reader as well.
Will Your LinkedIn Page Replace Your Resume?
Are traditional resumes facing extinction?
Well, some feel so …  seeing traditional resumes as an outdated piece of job-search collateral. When one considers the new technologies being applied to perform job-search tasks, such as Facebook and LinkedIn, one really needs to wonder exactly when the Internet *meteor* will arrive to finally "kill the resume."
When you need an answer who do you call?
You call on the experts; those on the hiring and recruitment side of things. So, I asked recruiters and hiring professionals two questions:
Will LinkedIn eventually replace the resume?
What's the view from your side of the desk?
I'm amazed and honored with the responses I received from those I reached out to on LinkedIn. The massive pool of skilled, professional, and overall wonderful group of people congregate within some of those HR and recruitment groups.
For that, I say "thank you, thank you" … sometimes people are so giving that one thank you isn't enough! =]
For the record: 80%-90% who responded believe LinkedIn will not replace the resume at this moment, nor with its current limitations. I'm not surprised. After all, LinkedIn hasn't filled all the gaps and benefits of the resume — however I feel they're working on it. =]
In some ways, LinkedIn provides the details resumes do not … or maybe, should. For example, recommendations. Who doesn't love reviewing credentials, online blog involvement, Twittering, and all those other applications available via LinkedIn, in tandem with active words of praise from third parties?
Google beware? Instead of the once common saying, did you "google" that candidate, we might hear LinkedIn's name used as a verb.
No doubt, LinkedIn is a great resource that — for the moment  — complements a resume.
So, back to the question posted to recruiters and human resources managers.
What's the view from your side of the desk?
Of the responses, Prashanth Menon provided what I thought was a nice response covering some of what I had been thinking … but he put it more eloquently than I would have.

Here's what Prashanth Menon, an Executive Search and Headhunting Specialist with Focus Direct Management Consultants had to say:
LinkedIn and similar enterprising network sites will definitely be replacing Job sites and their ineffectiveness, however, it will not be surprising to see LinkedIn with further developments in the future which eradicate the need to manage one's resume elsewhere. A classic example has been the recent endeavor of LinkedIn developers to include a downloadable PDF resume in the profile page.
As more and more LinkedIn users embrace the power of networking and understand the possibilities of a functional and dynamic online resume / biography the probability of LinkedIn replacing resumes will largely increase and be imminent. Most of the current users shy away from elaborating their profile which largely renders it as an ineffective replacement for a resume in the present scenario.
For career seeker's tools like LinkedIn are a great way to generate headhunting calls and open doors to new opportunities which largely increases their value than a resume in some job site. They have the option of looking up current employees in a potential organization to get a feel of their cultural fitment.
As a hiring manager or search consultant, LinkedIn opens doors to multiple possibilities like identifying client competition, specific candidates, reference and background checks to a potentials virtual behavior and skills in discussions. Resumes largely are ineffective in delivering a wholesome package which includes misrepresentation of core skills to suit the particular opportunity and cliched references which result in screening a lot of chaff.
There would be a great need for users to better represent their online profile and I would not be surprised to see a new breed of Online Profile/Resume Writers to fill that vacuum.
Resumes Written By a Professional Can Be Tax Deductible — Here's How
Gearing up to file your tax returns?
So are millions of other Americans by seeking out tax preparation services, or the alternative, a tax software. Oddly we go from the cheer of the holidays, landing face first into one of the most stressful times for all of us: tax season.
Before filing your next tax return, remember that certain job-search services you received during the year are great tax deductions under the right circumstances.
There are a few considerations relative to tax write-offs that the internal revenue code has outlined for your consideration.
For example, did you look for employment within your career field?
Those in a career change seem to be excluded from this write-off.
Also, did you a long hiatus from employment?
IRS form 529 doesn't specify exactly what "a substantial break between the ending of your last job and you looking for a new one …" so use your judgment. Lastly, you must not be a first-time jobseeker.
Not too restrictive … for some.
Although there isn't a cut-off amount, some career experts feel that itemized deductions for job-search services must be considered before using as a tax deduction. For example, a professionally written resume that cost $5,000 will likely raise suspicion with the IRS, especially since professionally written resumes generally average $400 to $800. Tax deductions need to be "reasonable."

Here are services you can write off:
Resume-Writing Services
Travel/Transportation Expenses (mileage)
Employment Agency Fees
It's important to note the IRS Form 529 does not mention tax deductions for:
Career Coaching
Interview Training
Dry Cleaning
For additional information about miscellaneous itemized tax deductions, visit http://www.irs.gov/pub/irs-pdf/p529.pdf. Locate "Job Search Expenses" on Page 5 of the IRS form.