In this post, we're talking about how to write an effective resume title.
By "resume title," we are talking about the top section of your resume.
This is considered "prime real estate" in your document.
Before we begin, let's make sure you're in the right place.
Definition of a Resume Title
A resume title is an objective or a resume summary statement.
It's also been referred to as a resume intro or personal branding statement.
If you're looking for a post on how to "name your resume," you'll want to read this post instead.
Now that we have that out of the way, let's talk about how best to optimize all the content you write in your resume.
The reason resume titles are getting such attention is because of applicant tracking systems.
Never heard of them?
If not, I recommend reading this post on how to optimize your resume for ATS systems.
Having an optimal intro to your resume also helps boost visual appeal for HR Managers who like to skim resumes rather than read them.
Here's an example of a before/after resume intro:
I realize the above graphic is a bit small. Though this was intentional so you can see that the example at the right has many visual elements that pop and draw the reader's eyes.
[Related Article: Here's another before/after resume example.]
There are bullet points.
A decorative line helps separate text.
There are many notables in bold text.
Text is broken up into several areas so there's separation.
Your Resume Title – Where Should You Begin
Though, where do you start when you're looking to beef up your resume title?
First, start with identifying your most notable career accomplishments.
This is the "LOW HANGING FRUIT" for most.
But, focus on accomplishments that are recent.
Maybe from the last 12 months to 2 years. You could go back further, though fresher is better.
Back in the day, putting accomplishments in the intro part of your resume was a bit taboo.
Not anymore.
Accomplishments help introduce dollar amounts and percentages into that top area.
So go ahead and tell hiring managers what you've accomplished in your career/job roles.
Additional accomplishments for your resume could include:
Awards You've Received
Client Relationships You've Saved
New Procedural Changes
Cost-Cutting Measures
Increases to Revenue
Second, what unique skills do you hold that are related to your target job?
For example, do you have:
Additional Language Skills
Unique Software Experience
Industry-Relevant Involvement
Specific Project Leadership
If I lined up you and 9 of your colleagues, what's unique about you that I couldn't find with the others?
Use the above list to identify what makes you unique.
As I mentioned previously, however, include only your career details that are relevant to potential new employers.
This means …
… don't mention added language skills unless they're important to your next employer.
… don't mention industry-specific experience unless it's important to that next employer.
Makes sense, right?
Example Resume Titles
Okay, let's now examine a few resume title examples: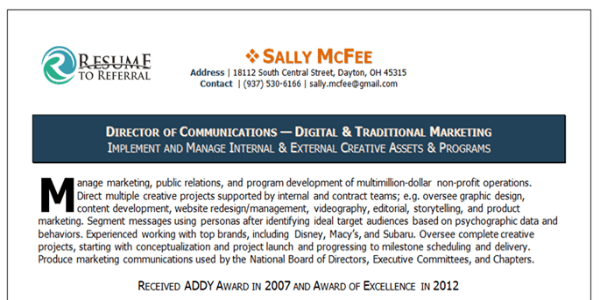 Notice how the above examples have key content that attracts the eye.
Great resume titles provide readers with key details right away.
Here are two more examples:
Additional Resources About Resume Writing