Few jobseekers use a resume summary. Instead, they opt for a weakly worded resume objective statement.
Why?
A resume objective is one of the worst "resume killers."
The top half is arguably the MOST IMPORTANT part when writing content for your resume.
Imagine you were trying to sell your house and opted to leave the front of your house dirty and unpainted.
What kind of impression would you be giving new buyers?
Not a good one.
Writing an effective summary for your resume goes a long way to position you as a prime candidate.
It introduces your over-arching skills and achievements to readers.
What's better than that?
The Difference Between an Objective & Summary
A resume objective is most often basic, consisting of a sentence or two. In fact, most objectives start out with, "To obtain a sales job…" or "Seeking a job as an R&D clerk…"
Another characteristic of an objective is that they're self-focused, not employer-focused.
And, because of this, objectives tend to say what the "jobseeker wants" and not what the jobseeker can do for the hiring company.
Let's take a look at two example resume objectives:
To apply my skills and enthusiasm in business to meet the project engineering and construction needs of a progressive company.
Here's another example of an old-style objective:
To obtain a job in outside sales, which would enable me to work closely with prospects and clients throughout Florida and Southeast areas of the United States.
Both of these examples are very blah, right?
The top section of your resume is PRIME REAL ESTATE, and therefore, should focus on the hiring manager/company's wants, needs, and desires.
HR managers NEED these questions answered:
Is this candidate experienced and capable of fulfilling this role?
Can this candidate do what we need him/her to do?
Can this candidate produce results for our company?
They want to know immediately if you are worth further examination.
That's it!
No great secret there, right?
What should you use instead of an objective statement?
The best way to begin your resume is by using a summary statement.
Unlike a basic resume objective, a resume summary includes some wonderful, employer-specific details. Such as:
Quick details about your target job title & industry
Overview of your most relevant skills that match the job being pursued
Any unique notables about you; e.g. language or tech skills
Snapshot of your most recent (and relevant) accomplishments
When you have specific qualifications that push your candidacy over that "competitive edge," list it!
For example, most candidates wouldn't list language skills in their summary.
But, for professionals pursuing employment with companies that deal with the Asian market, for example, listing RELEVANT language skills (e.g. ability to speak Mandarin, Putonghua, or Filipino) within the top section are ideal.
These are the types of notables that set you apart from other candidates. 
Other examples of information that might give a professional that edge over other candidates might be your experiences with special projects, involvement with industry executive boards, acquisition of certain certifications, and so on.
The summary statement is ideally a VALUE-RICH STATEMENT that shows your worth to potential employers quickly and effectively.
There are 2 key no-nos to avoid when writing a summary for your resume. In fact, these tips work for your LinkedIn profile as well. 
First, avoid cliché or overused phrases and words in a summary statement.
Some examples would be "enthusiastic", "detail-oriented", "people person", "goal-oriented", and "dedicated". These phrases have been used so much that readers no longer give any credence and consider them fluff.
Choose better words that more powerfully paint a picture of your wealthy career.
Second, keep your summary statement to a summary, not an expository paragraph.
If a piece of detail in that top area DOES NOT position you as a candidate to be interviewed, ditch it.
Here's an example of a resume summary:
Manage civil projects involving environmental and construction aspects of the engineering field — projects typically budgeted from $769,000 to $2.3M. Liaison to the executive board during project milestones. Served as Project Administrator during a recent management change, which involved managing the company's $32.2M P&L in addition to overseeing project budgets, implementing cost controls, and identifying on-site improvements to avoid construction delays and costly errors. Recently saved $371,000 by identifying and remedying an equipment schematic flaw previously overlooked by mechanical contractors.
Much better, right?
Here are 2 more example summaries to check out: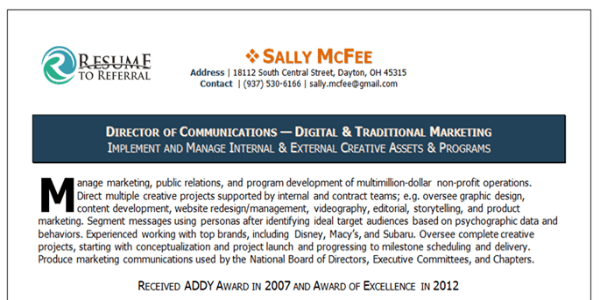 When striving to give your resume edge, remember to consult with an expert writer for the best results.
Most experts will tell you to ditch the objective statement and go with a powerful summary statement to reach out and grab the attention of the hiring manager. Avoid handicapping your prospects for success by utilizing the outdated, ineffective resume objective.
[Related Article: Here's a before/after resume example worth checking out.]